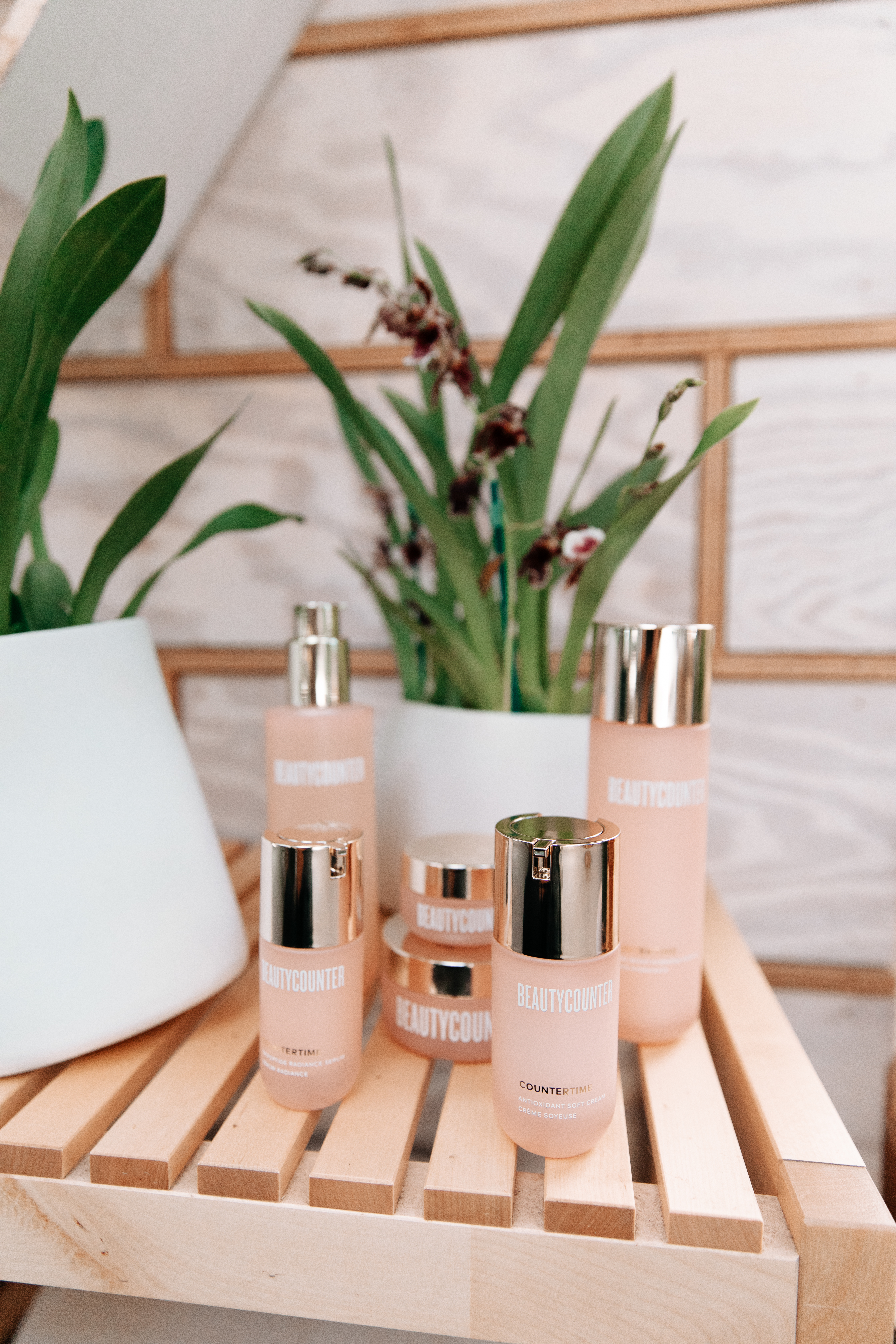 Countertime is here y'all and I am beyond excited to finally be able to share this amazing new anti-aging skincare line from Beautycounter with you all! I've been using the entire line for 2 weeks…I absolutely LOVE it and I know you will too!
Clean beauty has become such an important part of my daily routine and I can't say enough great things about Beautycounter. Our products are truly amazing…not only are they clean but they are also very effective! I feel so good about what I'm putting on my skin everyday and I want you to feel good about it too!
Let's chat more about Countertime! What's so unique about Countertime is the line's main powerhouse ingredients…Bakuchiol & Swiss Alpine rose. These ingredients together create Beautycounter's plant-derived Retinatural Complex. Essentially, Countertime has a safe plant based form of Retinol in it to serve as a powerful (and clean) anti-aging product!
The Countertime collection offers 6 amazing products:
Countertime Lipid Defense Cleansing Oil: luxurious, lightweight cleansing oil that gently and effectively removes makeup and other impurities without stripping essential lipids from skin.
Mineral Boost Hydrating Essence: lightweight and deeply nourishing , this milky moisturizing essence delivers vital nutrients to the skin's moisture barrier – instantly boosting hydration and radiance.
Tripeptide Radiance Serum: transformative rejuvenating treatment visibly increases skin firmness and elasticity, while reducing the appearance of fine lines and wrinkles.
Antioxidant Soft Cream – revitalizing cream that improves the skin's barrier function and boosts hydration, which helps protect it from daily environmental stressors.
Tetrapeptide Supreme Cream – rich and deeply hydrating cream that supports elasticity and visibly firms while smoothing skin texture to minimize the look of fine lines and wrinkles.
Ultra Renewal Eye Cream – this eye cream revitalizes the eye area and reduces the appearance of under-eye shadows crow's feet for a smooth, firmed look.
Every Countertime product is truly amazing! I highly encourage you to try this new line as every product plays an important role in your daily skincare needs. If you want to try specific products within the line, I recommend that you start with the Tripeptide Radiance Serum, the Tetrapeptide Supreme Cream, and the Ultra Renewal Eye Cream!
I'm excited to hear what you think about Countertime! I truly believe you will love it and see great results after adding these products into your daily skincare routine! Adding clean beauty into your routine is a great start and it's never too early to treat your skin to an amazing anti-aging regimen!
You can shop the new Countertime collection HERE! As always, thanks so much for stopping by…see you back here real soon!